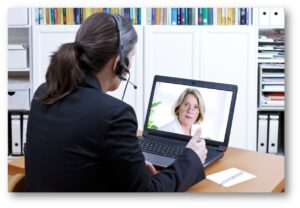 The CIOVID-19 pandemic has affected the way we do business in a very significant way.  Many businesses are requiring people to work remotely.  Employers are finding that having employees work remotely may be the new normal.
COVID-19 has forced us to become more dependent on the internet, as desperate measures, like social distancing, disrupt economic activity and everyday life.
This new way of doing business could mean that employees are collecting client information from home or other places that may not have the same cyber security as an office network.  In some instances, employees who are working remotely are forced to use their home computers because they do not have a company laptop.
Top Work-from-Home Cyber Concerns
Unsecured video conferencing
Using unsecured networks
Spam and phishing campaigns exploiting the COVID-19 pandemic
Maintaining security-critical operations, such as patch management
Supporting employees to ensure they have what they need to work from home without sacrificing security
Theft of client information from lap tops
Changes to regular security-critical processes
Using social media platforms from unsecured networks
 What Can Employers Do to Reduce the Threat?
Do not open email from people you do not know.
Do not reveal personal or financial information in emails, and do not respond to email solicitations for this information.
Do not provide personal information to unknown websites or uninvestigated third-party messengers.
Do not share the virtual meeting URL's on social media or other public channels.
Avoid clicking on links in unsolicited emails, and be wary of email attachments.
Lock your screen if you work in a shared space.
Provide corporate computers/devices to staff while teleworking, where possible.
Use secure, password-protected emails when sending documents.
Ensure that adequate information technology resources are in place to support staff.
Provide secure video conferencing for corporate clients (both audio/video capabilities).